Your First Task Script¶
A task script is a stand-alone script that can be run either via in-game command with the /ex command, or by the run command in a script.
Task scripts will run all of the Denizen commands that they include. A task script can be simple, it can be complicated, and it can even run other task scripts. This is useful to create logic-based script chains, like dialogue options or random content.
Here's an example of a basic task script.
example_task:




    type:

 task


    script:




    - narrate 

"This is a basic task script!"



This script will narrate the text: This is a basic task script! to the player attached to the script. If you use the /ex command to run this script - specifically, by running /ex run example_task in-game, you will be the attached player.
Note that this script sample is highlighted in green. That means it's good enough that you could copy/paste it and it will work. Farther down this page there's a script example highlighted in blue, meaning it's a good example but some part needs to be filled in. Later on you'll see examples in red, indicating that those examples are what to not do. For more information on this highlighting system, refer to This Guide - Sample Scripts.
Previously, you've learned how to set up VS Code, the editor that we recommend for writing Denizen scripts.
At this point, you should have a task script that's ready to run! Go on, give it a try - first, type /ex reload in-game to load the new script in, then use the /ex run (YourTaskName) command to run the task in-game. For example, the in-game command to run the above script would be /ex run my_first_task.
If you see the text that you wrote for the narrate command, you've successfully written your first task script. Congratulations!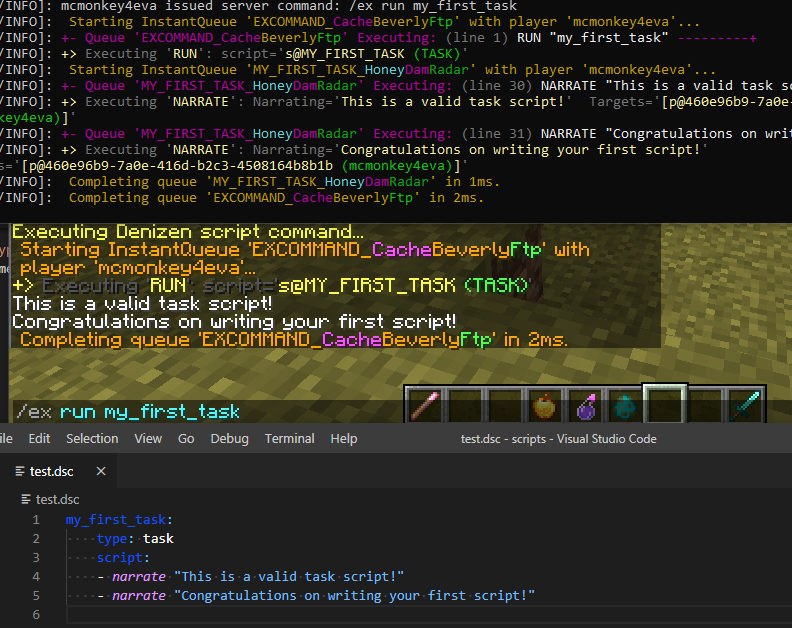 To take what you learned here a little bit further, and bearing in mind that while we've been using the run command via /ex, it is a Denizen script command (the /ex command is just an in-game tool to quickly run any script command), let's look at an example that does just a little bit more than the previous ones.
You can also use one task script to trigger another task script. That looks like this:
my_first_task:




    type:

 task


    script:




    - narrate 

"This is a valid task script!"




    - narrate 

"Congratulations on writing your first script!"




    - run 

my_second_task



my_second_task:




    type:

 task


    script:




    - narrate 

"This is your second task script!"



This is just a basic example, and you'll be able to create more complicated and powerful scripts as you learn more about Denizen.
It's worth noting that in the example above, my_first_task and my_second_task are each a separate script container, and both can be within one script file, or different files - it doesn't make a difference to Denizen.